This article is dedicated for WordPress developers who has never used Subversion before and wanted to release their plugin to the public. Once you have submitted a form to WordPress. They will reply you with a email that contains your WordPress Subversion repository link. You do not have any knowledge of WordPress Subversion repository and don't know where to upload your new WordPress plugin to share with the public. You started searching for a solution around the internet for Solution without having any luck. Sad. Well, i go through that because i am those confuse people around the world who can't just read and read the whole article written with pure English. So here, some image picture for you to learn to access WordPress plugin Subversion repository. You can also read the whole Subversion book given by WordPress tutorial in command line.
Requirement to access WordPress Subversion
There are two ways of accessing WordPress plugin Subversion repository. The first one will be using pure command line instruction and the other way is to have a Subversion Client. I will show you the easy way to make life easier (the client is built for this purpose). Look at the picture below on Subversion website where all Subversion Client exist for different platform.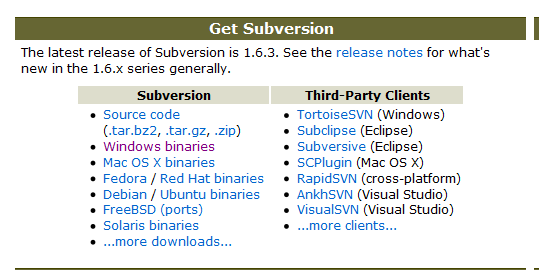 Download one of them depending on your platform and installed it to your system.
Working with Subversion Client
For this article, i will use TortoiseSVN for Windows users. You will have to fire up the installed TortoiseSVN on your PC and it will show you something like that below,